Basic Analysis
---
Honest communication
Years of experience
Powerful information sources
ASE-certified technicians
ONLY
$89
FOR MOST SYMPTOMS
---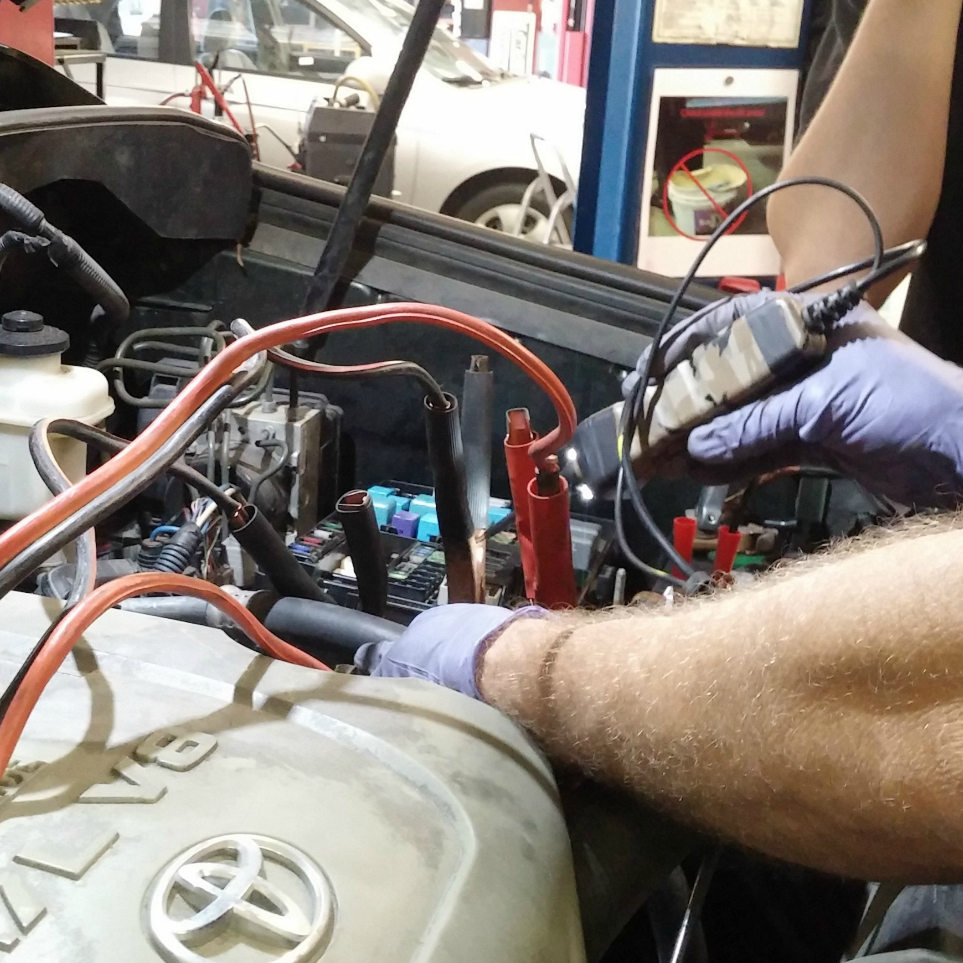 Though many problems can be found for this amount, sometimes more time may be required, so this diagnostic charge is approximate.  We will call if we need to go over your authorized amount.
"Fixed diagnostic charge"
Some shops claim they have a fixed rate for their diagnosis no matter what the problem is.  In reality, that quoted price is an initial fee just like ours.  If the price truly is fixed, then there will inevitably be problems that they can't or won't solve and they will send you to someone else to find the problem because no one will spend all day on a tough problem for that basic price.  And you never know which problems will turn complicated.  So we are realistic and tell you up front that many problems can be found for this basic price, but not all problems.
Efficiency
We do whatever tests and research that will find the problem in the fastest, most economical way.
Tools and equipment
We use scan tools to communicate with your car's multiple computers
 Digital storage lab scopes, test lights and graphing multi-meters to check suspected circuits for proper inputs, outputs, power and grounds.
 If needed we perform specific diagnostic procedure as outlined in repair manuals.
 We use mechanical pressure and vacuum gauges as needed
 Smoke machines to check for leaks
 Sensor and computer simulators and other equipment.
Information systems
 ALLDATA®– computerized manufacturer's technical repair info, wiring diagrams and more.
 Identifix®– a professional subscription internet database of pattern failures
 iATN®– International Automotive Technicians Network, where thousands of techs share their experience and knowledge
 Years of our own experience as ASE Advanced Engine Performance Specialists
Is the diagnosis free if you do the repair?
Occasionally we'll have someone ask this question, so some shop somewhere must be offering this deal though it is not standard practice.  We don't do that, primarily because the diagnostic time sometimes varies, and the repair time most always does so that would make for some pretty arbitrary pricing and wouldn't seem a fair way to do it.
Like we said on the pricing page, every shop has to make a profit one way or another; No shop is going to have their most experienced diagnostic techs work for free.  If the diagnosis is given away free, the repair price would have to be bumped up, or overall prices would need to be more.  Price shopping for a service business or expecting something for nothing is not usually a good idea.
The diagnostic price is for the diagnosis only, unless it is a loose connection or something like that; most repairs are at additional cost.
Multiple symptom analysis
Often people will accumulate problems in many different areas or systems of the vehicle.  We can take a cursory look at each symptom for an initial charge and we will conclude all we can but each of these systems usually require totally different tests.  Any one of these system diagnoses can turn into something deeper and costlier.  The initial analysis will triage the symptoms, we will conclude what we can and then see where we need to go from there.
Different Systems with different diagnoses:
 Engine Mechanical/baseline
 Electronic Driveability (Engine Performance)
 Chassis Electrical
 AC (may incl. charge & leak test)
 Noises (may incl. some disassembly)
 Antilock Braking Systems
 Airbag Systems
 Fluid Leak Inspection (May need to clean area and remove minor parts to see)
 Overheating
 Brake Inspection
 Starting and Charging
 Transmission Diagnosis
This page was last edited on by CarScope Repair & Diagnosis.