We offer large- and small-scale transmission repair and services.
We take the time to know the best course of action is before recommending transmission work. What does that mean? It means we won't sell you an entire transmission if all it really needs is a sensor.
That's a big savings.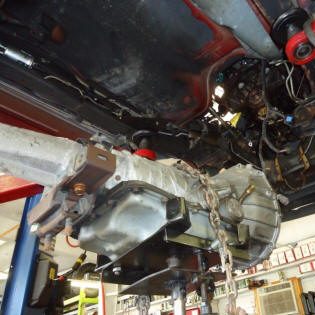 Automatic
transmissions
As we implied above, we've been able to get our customers "out the door" with less money spent by repairing a transmission problem without replacing the whole unit. It's important to know what is needed and when; have us take a look to see what you need.
Our automatic transmission repair services include:
Leaks: transmission gaskets and seals
Hydrualic and electrical control system repairs
Mechanical repairs: shift linkage, internal repairs
And more…
When it comes time to replace your transmission, we're here to help.
The automatic transmissions we install are completely remanufactured. They have a nation-wide, 3-year, 100,000-mile warranty on parts AND labor *. Our premium warranties include coverage for higher labor rates, rental cars, and fluids; towing is also available as an optional part of the premium warranty. Details can be found here (Jasper) and here (ATK).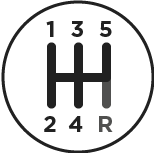 Manual
transmissions
Manual transmission repair is tricky, especially since you can feel how good a job we did afterwards! But even though they've long ago fallen into the minority, we continue to service manual transmissions with care and precision. Many of our customers have remarked that their clutch pedal felt better-than-new after we did a clutch job.
Our manual transmission repairs include:
Clutch disc and hydraulics replacement and service
Mechanical repair to gears, synchronizers, etc.
Shift linkage repair
And more…
Sometimes, we're faced with a coin-toss regarding diagnosis: we can't tell whether the problem is a clutch issue or if it's internal to the transmission. In these cases, we would have to start disassembling (i.e., removing the transmission) to find out what's up. See the note on big repair jobs below, and note its bearing on the coin-toss situation mentioned above.
We source manual transmissions both from remanufacturers and recyclers (salvage yards). The warranty is usually a year for remanufactured units; however, the warranties for these units vary a lot. Contact us for any more details you need.
A note on big repair jobs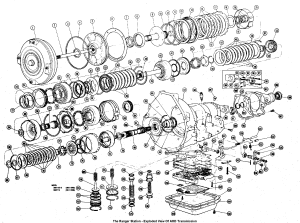 If a mechanic is careful when he is doing a big job, he'll look to see if there are other things that should be done at the same time in order to save money on labor in the future, or to ensure the part he's replacing won't get damaged by another component that is defective. Considering the large numbers involved with transmission repair or replacements, you need a mechanic who will be careful about these other needed repairs. Our technicians are careful to inspect parts as they come off, think diagnostically as they do "nuts and bolts" work, and to combine their knowledge as technicians with a service adviser's mindset — looking out for your best interests and weighing your goals against the current situation.
Transmission repair FAQ
That depends on a lot of things, but we tell our customeres to plan on a minimum of 1 week.
For automatic transmissions:
We do not install salvaged automatic transmissions. It is simply too much risk for our customers, as it almost always goes wrong. There is no need to end up paying as much for a used unit as for a new one because of the inherent problems with used transmissions.
For manual transmissions: Yes, because their construction is more rugged than their automatic counterparts. However, if there is a problem and we need to remove the used unit, the customer is liable for the labor costs. It will not be covered under our warranty. (Sometimes salvage yards have great warranties, though.)
*Features and terms are subject to their respective supplier's warranty information; terms are for most gas engines; certain qualifications may apply to towing; prices subject to change; consult transmission supplier's warranty information.